You just moved in to your beautiful new home. While inside you feel like you are in a paradise that is just yours, you may still feel like sprucing up the yard some. The wallet is a little tight after moving, but luckily we've got some affordable landscaping ideas for you.
Start with Soil – according to this MSN article, if you are going to spend money, this is the place you'll want to do it to get the most bang for your buck. It makes sense. You can spend a lot on plants and pretty flowers, but if you are planting them in clay or poor quality dirt those new plants don't stand a chance.
Start composting – all that waste from your kitchen would make excellent fertilizer, and it's free! Just start collecting the right waste materials and get your pile going.
Concrete – contact your local concrete company and ask them for their leftovers. Typically they have a bunch on hand that they will freely give you. You can then create a nice walkway with pieces that are around a square foot, or use smaller pieces to edge your garden beds.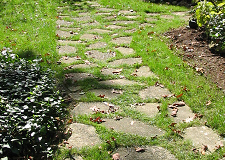 Trade out advertising – simple enough, right? Call a local landscaping company (preferably a start up) and explain that you'll put their sign in your yard, and post updated pictures on your FB page telling all your friends how in love with your yard you are, and that they helped you do it. You can then work out a reduced, or in some cases, free landscaping
Housewarming Party – you just moved in and what better time to have all your friends together?! TheDollarStretcher.Com suggests planning it with a garden theme and tell friends no gifts, but they are more than welcome to bring cuttings or transplants for your yard.